Adrian Stout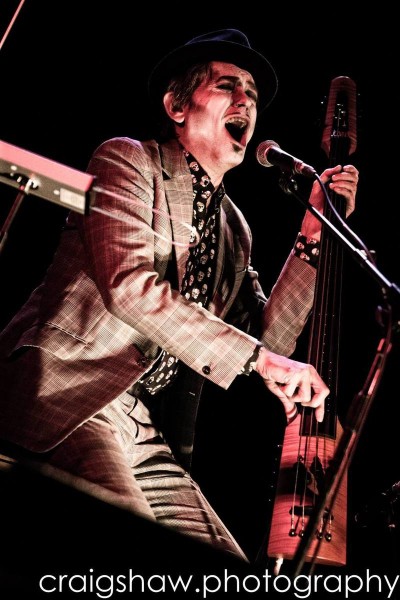 Instrument

CR5 Omni Bass

Groups

The Tiger Lillies

Website
Adrian Stout has played Bass with Errol Linton, Pigmeat Pete Smith and Todd Sharpville, as well as many other bands in every possible style of music during the 1980's and 90's. He toured Europe and India, and also recorded two albums, for Blues icon Dana Gillespie before being co-opted by The Tiger Lillies for 1995's Edinburgh Festival. This was only supposed to be for a week. 21 years later this once serious musician has since then found himself dancing in leider hosen, making love to inflatable sheep and dressing as a cheap prostitute.
Adrian has been adding an arsenal of unusual musical instruments to the Tiger Lillies sound, playing musical saw, Theremin, jaw harps and nose flutes on recordings and performances. He has been Grammy nominated for his work on the album The Gorey End (with Kronos Quartet) and won an Olivier Award as part of the ensamble for Shockheaded Peter.
In 2007 Adrian co-wrote and produced a cd with cult icon Sexton Ming called "A Taste of Wood" that was released on their 'Crapping Clown' label. He has played bass on 3 albums for Stuart A Staples of Tindersticks 'Lucky Dog Recordings 03-04', 'Leaving Songs' and 'Souvenir 06' and toured with him throughout Europe for 2 years.
In 2009 he was invited by Danielle de Picciotto to compose music for the Feedback Exhibition that was shown in Berlin and Frankfurt and in 2010 he added saw and Theremin to the Urban Voodoo Machine cd 'In Black 'N' Red' as well as performing onstage with them on numerous occasions.
He has also been spotted as guest saw (or Theremin) player with Amanda Palmer, Joe Black, Sxip Shirey, Elyas Khan, Alex Hacke and Marcus Reeves. Recently Adrian has performed in a musical saw duo called 'The Weeping Saws' with David Coulter. He is playing bass for The Penny Black Remedy for a single in 2014, produced by Boz Boorer. He can also be found playing bass for Nigel Burch and the Flea Pit Orchestra in seedy bars in London and Europe.
Currently he is recording material for improvised collective Chromabergs in his own studio, appeared as a guest thereminist for Roberta Hofer on her new album, and is trying to make satisfying noises on a Bb Euphonium. In 2017 he contributed Muscial Saw and Theremin for Opera Chaotique's new album.