Anna Blanton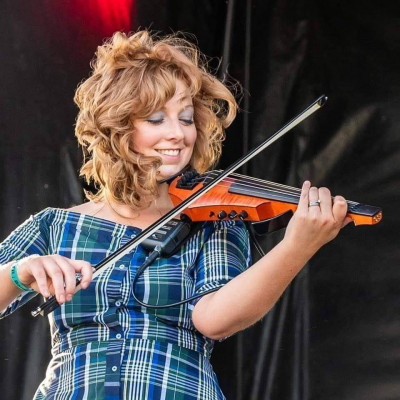 Instrument

CR5 Violin

Groups

Jericho Woods, Croghan's Crossing, The Porch Possums, Colter Wall

Website
I've played lots of scorching hot outdoor gigs. I'd always worry about my 200+ year old acoustic fiddles getting damaged or going out of tune. This CR5 Electric Violin not only sounds great and looks cool, it also handles the heat outside remarkably well!!! I've had no tuning issues and don't have to worry about seams coming open at any of my outdoor gigs so far this summer. I can just enjoy playing and not stress about my gear!

—Anna Blanton
Anna Blanton grew up in Greenville, IN and currently resides in Ramsey, IN. She received a Bachelor of Arts in Music with emphasis in violin performance and a minor in marketing from the University of Louisville. Her private teachers include J. Patrick Rafferty, Jeff Guernsey, and Catherine Moeller-Cunanan.
Anna now enjoys a busy performance career and teaches violin and mandolin lessons at Kentuckiana Music Center in New Albany, IN.
Anna Blanton is an Artist Partner of NS Design Electric Instruments, Nicola Brand Strings, and Zylia. She currently plays for country band Jericho Woods, celtic trio Croghan's Crossing, and the Strings of Indian Creek . She also regularly performs with numerous regional orchestras including the Paducah Symphony, Orchestra Kentucky, Louisville Mandolin Orchestra and the Jeffersonville River Pops Orchestra.
April of 2018 Anna was part of a 52 piece orchestra that recorded Bear McCreary's "The Professor and The MadMan" movie soundtrack starring Mel Gibson and Sean Penn.
In 2017 Anna toured on fiddle and mandolin with Canadian folk singer/songwriter, Colter Wall, in the US, Canada, and Europe.
Anna has performed at 'Abbey Road on the River' Beatles festival since 2010 in the KaLeidoscope I's resident string section where they've shared the stage with 2x Grammy Winner Laurence Juber (Paul McCartney's Wings), The Orchestra (former members of ELO), and Ambrosia.
In 2016 and 2017 she partnered with Kentucky Shakespeare on their productions of Twelfth Night and Rosencrantz and Guildenstern Are Dead under the music direction of Jack Ashworth.
She's also performed in the backup orchestras for Hanson, Josh Groban, Sara Evans, Steven Curtis Chapman, Evanescence, Lindsey Stirling, Disturbed, 2 Cellos, Celtic Thunder, and The Trans-Siberian Orchestra.
Kentucky has always been known for Bluegrass & Bourbon, but the roots of Jericho Woods run deeper than that into the veins and musical culture of this region. "I dig this band, they know their roots, haven't gotten above their raisin' and do know their state and musical heritage," says Greg Martin of The Kentucky Headhunters. Jericho Woods fuses the Grand Ole Opry with Muscle Shoals. A musical experience that only boys brought up in this diverse Commonwealth could produce. With influences ranging from Outlaw country, jam bands, and roots rock, to folk and bluegrass, Jericho Woods takes the best of all of those and crafted a unique blend.  New Album:  Kentucky Wild – Sips and Sounds of Summer by Jericho Woods.