Brazilian 2wins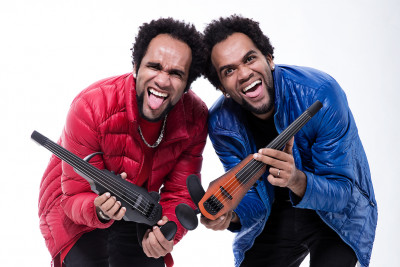 Instrument

NXT Violin

Groups

Brazilian 2wins

Website
Walter and Wagner Caldas were born in the at-risk neighborhood of Niteroi in Rio de Janeiro Brazil. The favelas, (or shantytowns built into the sides of hills) were prime territory for drug cartels to find worthy henchmen. From an early age the young boys were exposed to violence and drugs. Their father, Jonas Caldas, a stringed instrument maker, started the boys on their musical career to focus their energy on something positive. While many of their friends were out in the bloodthirsty drug trade that imprisons many young Brazilian boys, Walter and Wagner took comfort in classical music. Instead of guns, the boys reached for the violins their own father hand-made, the works of Bach and Mozart captivated their hearts.
Twin brothers Walter and Wagner grew up in a very different reality. In the violent favelas (slums) of Rio De Janeiro, Brazil the brothers lived a poor, simple reality where friends were constantly caught up in the deadly drug trade. It was very common for them to see friends killing others and being killed in broad daylight. The Twins had little to no money but found solace in classical music on violins their father hand-made. Despite their surroundings, they always carried a smile on their face.The brothers then helped others escape the harsh reality by finding a creative outlet in the orchestra they taught. They began playing pop music on classical instruments and teaching others to do the same.
B2wins – Artists. Performers. Entertainers. Speakers. Motivators.
Our Mission – "We came from a reality in which some days it was hard to smile. Our desire is to positively impact the world and bring a smile to everyone we encounter. "
Our Music – "Perhaps the most difficult question we are asked is 'what kind of music do you play?' Well, when you break away from the traditional instrumentation of a "band" like we have, you break away the ability to put us into a specific genre. Every song drips with originality, and is coupled with thick musicianship. This is why everyone from jazz junkies and reggae lovers, to classical aficionados and hip hop heads, all leave smiling with their own comparisons of who we sound like. We have many faces and sounds. We strive to always give you something special, regardless of where we meet and what you like."
Our Show – "When an artist is performing on stage, there is an assumed responsibility to deliver. This is a responsibility we take seriously and respond with resounding passion. We set out to shatter convention in our live shows, to break the stereotype of a typical 'band.' To simply walk on stage and play music is a shortcoming. Our desire is to make you experience the full spectrum of emotions. For that one hour we are together, you become lost in the moment, forgetting all your worries. We are daring, creative and go out of our way to blow your mind every performance."