Casey Driessen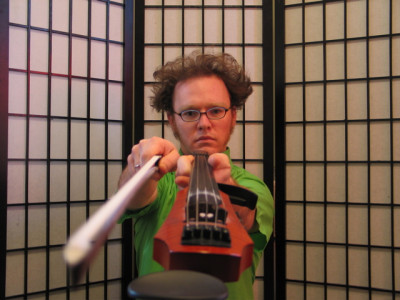 Instrument

CR5 Violin

Groups

Solo Artist, Fiddlesticks

Website
Driessen has never taken the standard path in his music career. Described by Zac Brown as "a mad scientist with a five-string fiddle," the GRAMMY-nominated fiddle player loves to experiment, collaborate, teach, travel, and push the boundaries of not only his instrument, but of what it means to be an independent working musician in the modern music industry.
Currently, that means pouring himself into Otherlands: A Global Music Exploration. Produced, performed, recorded and filmed by Driessen, Otherlands is a travelogue of on-location recordings, short films, and essays documenting musical collaborations through Spain, Ireland, Scotland, India, Japan, and Finland. Driessen undertook this nearly year-long journey with his family, and the results are a 26-episode video series, a 13-song recording of collaborations titled Otherlands:ONE, stories from each encounter, and hundreds of photos. 
Before setting off on his Otherlands adventure, Driessen spent four years as Program Director of the Contemporary Performance (Production Concentration) master's degree at Berklee College of Music's first international campus in Valencia, Spain. In this capacity, Casey taught courses, directed concerts, and managed an impressive team of faculty as they guided talented and diverse musicians from around the world to develop their musicianship and artistic identity.
While working in Valencia, Casey released The Chop Notation Project. Created in partnership with Spanish violinist Oriol Saña and in consultation with other recognized choppers, this free resource creates standardized music notation to read and write the percussive bowed string technique known as chopping, bringing notation up to speed with the current playing practice. By helping choppers share their musical ideas more easily across the globe, the hope is that it grows the practice and strengthens that community.
Over the past 14 years, Driessen has released four solo records and toured as a one-man live looping show called The Singularity; collaborated with Darrell Scott, Tim O'Brien, Béla Fleck, Jerry Douglas, Steve Earle and others; produced and engineered records; teched, managed stages, tours, and merch; and travelled the world playing music in 22 countries on four continents and counting.
While Driessen and his family loved and embraced their traveling expat lifestyle, they knew they'd need to return home eventually—leading to their departure from Valencia and the start of Otherlands. They nearly completed their world travel itinerary before COVID-19 lockdowns found them in a Finnish cabin for two months in the spring of 2020. 
After a two-week mountain camping quarantine, followed with unpacking a few storage units, Casey and family have settled back in Asheville, NC. Most of his coronavirus time is spent in the home studio recording and teaching or outside gardening and building a picnic shed. And when the time is right, he looks forward to getting back out there and beginning the next phase of Otherlands travels, locations TBD.