Eric Mingus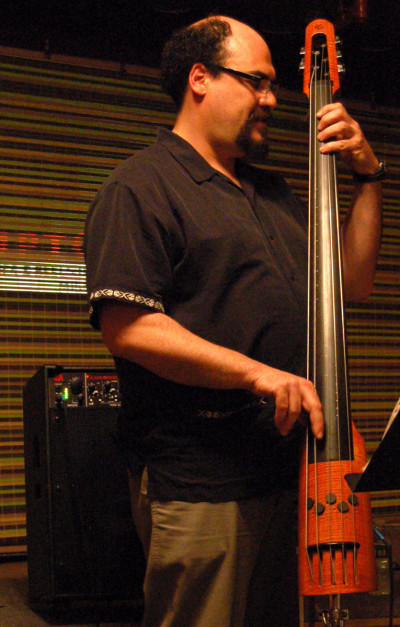 Instrument

CR Omni Bass, EU5 Electric Upright Bass

Groups

Solo Artist, Carla Bley, Bobby McFerrin, Karen Mantler, Elliot Sharp

Website
I suppose in a way, I wasn't the kind of bass player the Omni Bass was intended for. The bass I have been playing for more than a decade is the longer scale NS Design EU5 Electric Upright Bass, one of the earliest of that model.  I transitioned from an acoustic upright to that bass. It has been the cornerstone of my sound on all my recordings since then.  In fact, it helped form my sound.  NS instruments have a wonderful ability to achieve the sound of the acoustic instruments some musicians are trying to achieve, however they also can help us find an individual sound that comes from our fingers or perhaps buried in our mind's ear. With the Omni Bass, I was concerned that transitioning to the shorter scale would hinder the sound I had developed over the years with my longer scale NS.  This was not the case.  The lows are clear and responsive, brought about by fingers or bow. This bass has a feel that is familiar and I took to it quickly.  I very much enjoy the arco response.  It is very immediate and true. The bass feels tighter… More refined.  I suppose what I am feeling and hearing are the advances NS design has made over the past decade. I particularly enjoy the feel of the bass.  My hands find their way around the Omni Bass easily. The notes sing through its maple form.  The fit and finish is refined and allows me to work freely with the strings. The controls cover a wide range and allow a tremendous amount of adjustment to the tone.  I can easily find my way to the sound I am looking for and can quickly make changes when needed. The Boomerang strap is probably he biggest adjustment for me… Not used to having a bass strapped to me.  The Boomerang strap is very versatile in its positioning and the instrument moves quite well while being played and doesn't hinder the flow of my playing. The Omni Bass is simply a joy to play. It is a wonderful thing to feel and hear the design progress NS Design has made over the years.  I am proud to remain an NS player.

—Eric Mingus
The son of the legendary jazz bass player, Charles Mingus, Eric Mingus is a bit of a polymath when it comes to his music. For some years he worked as a session musician and backing singer, playing on dates with artists such as Carla Bley, Bobby McFerrin and Karen Mantler. Trained classically as a vocalist, he sings the blues like nobody's business, improvises with the best of them, and plays a fierce bass. Creates worlds with his words whether he speaks or sings.
When famed producer Hal Willner needs that special moment in his multi artist shows, he calls Eric. Hubert Sumlin loved the way Eric brought "soul" to the blues. When Elliott Sharp wanted a vocalist for his project Terraplane, he knew Eric was the right voice to bring the contemporary blues to his musical vision. Eric has a unique sensibility when bringing music to film, and has scored two documentaries on boxing for ESPN. His passion to write and perform poetry was encouraged by the likes of Allen Ginsberg, Jack Micheline and Lou Reed.
Eric was a featured performer for the 2010 Vancouver Olympic Opening Ceremony.
One of Eric's most recent successes is the creation of his unique take on the Who's Tommy. Working with Hal Willner, Eric brought a brilliant reworking of a rock classic to the Adelaide Arts Festival (2015).
Eric's newest 2021 release "The Devil's Weight" was Produced by Ouch! Records.