Guy Michel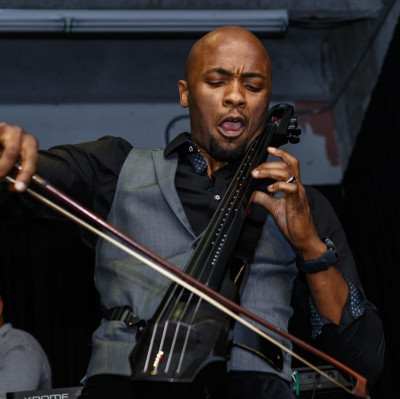 Instrument

WAV4c Cello

Groups

Solo Artist

Website
Making cello playing cool.  Many people have a certain view of classical instruments and I wanted to bring a different perspective to what can be done with the cello. There's a lot more to the instrument than just classical music.  I chose my NS instrument because I wanted something mobile with a slick design so I can dance and entertain.

—Guy Michel
Born in Port au Prince Haiti, Guy Michel grew up in a household surrounded by musicians and artists, so music has always been part of his DNA. At the age of 5, his dad wanted him to play the cello which he did not approve of at first until he saw the beauty of this instrument at a recital. On that day, he found his first love and has never looked back since.
What started as a fun and joyous experience turned into an immense passion. He joined the Saint Trinite Music Program three years later and became part of the premiere orchestra in Port-Au-Prince, Haiti "The Orchestre Philarmonique de Saint Trinite".
After his primary and secondary studies at the prestigious Nouveau College Bird, Guy Michel emigrated to the U.S to further his musical studies at Florida International University where he received a bachelor's in Music Education.
Even though Guy Michel is classically trained, he believes that music goes beyond Bach and Beethoven, or simply playing complex notes to showcase an individual's talent. It is a form of self expression; A vehicle in which to awaken and stimulate the imagination. He loves exploring new possibilities on the cello with a repertoire ranging from easy listening to Hip Hop and EDM. There is no limit to what can be accomplished on an instrument.  He is currently working on original tracks which is set to be released this fall
Career Highlights/Performances:
Two features on the Univision's hit Latin TV show "Mira Quien Baila"
Government of Nicaragua in Managua
Jovenel Moise (Current President of Haiti)
Michel Martelly aka "Sweet Mickey" (Former president of Haiti)
Latin sensations Camila and Marco Antonio Solis
West Palm Beach "Diner En Blanc"
International Performances: South Africa, Dublin Ireland, France, Barcelona, Portugal, Haiti