Kyle Perkins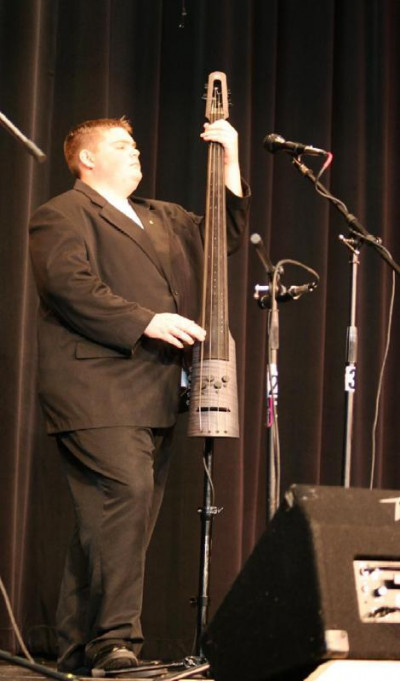 Instrument

CR Double Bass

Groups

Solo Artist, JD Crowe and the New South, American Drive

Website
Kyle Perkins has made a name for himself as a solid bass player, working with touring acts such as: David Parmley & Continental Divide, The Larry Stephenson Band, JD Crowe & The New South, American Drive, and The Kenny & Amanda Smith Band.
Kyle got his start playing bass at the age of 7 years old. He grew up listening to Flatt & Scruggs, Jimmy Martin, JD Crowe & The New South, and the Bluegrass Cardinals, and then branched off into the more progressive music of the Lonesome River Band, Lou Reid & Carolina, & IIIrd Tyme Out. Kyle also grew up playing along with records of the southern gospel group The Hinsons to hone his talent. Kyle's first job in the music business was with his family band. Kyle played with some local groups and then joined the Kati Penn Band in 2003, a regional band from Lexington, KY. He played here on and off for 3 years while playing with the Randy Kohrs Band at the same time in 2005. In Sept 2005, he was hired by David Parmley to play with the band Continental Divide and was a member of that band for one year appearing on two albums: Church House Hymns and 3 Silver Dollars. After leaving Continental Divide, Kyle was hired by Larry Stephenson and remained in the band until December of 2009. He can be heard on the 20th Anniversary CD of The Larry Stephenson Band. In 2010, Kyle left the Larry Stephenson Band to join JD Crowe and The New South and was part of the final version of the New South for 3 years. Kyle was a founding member of American Drive (which is the New South band with the addition of Josh Hymer on banjo). Kyle has been touring with The Kenny & Amanda Smith Band as of 2014.
Prior to this record, not many people know that Kyle is also a proficient banjo player and enjoys playing banjo when not holding down the bass duties with the band. Kyle lists his father Kenny Perkins, Randy Barnes, Greg Taylor, Mike Anglin, Marshall Wilborn, Barry Bales, Mike Bub, and Harold Nixon as some of his bass influences, and his grandpa Winfred Frye, JD Crowe, Earl Scruggs, Sammy Shelor, Jim Mills, Scott Vestal, & Ron Stewart as some of his banjo influences.
Kyle proudly endorses D'Addario Strings, Fishman Pickups, NS Design EUBs, and G-K Amps.