Luis Montilla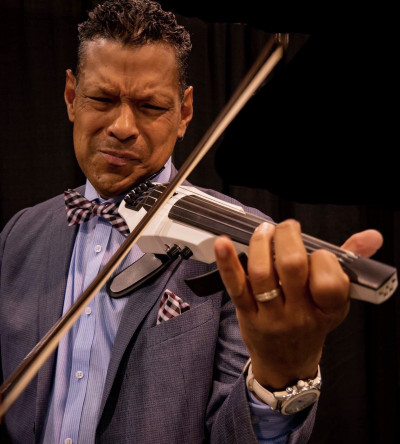 Instrument

NXT5a Violin

Groups

Solo Artist – "The White Violin"

Website
The NS Violin is a big and smooth sound in my hand.

—Luis Montilla
Luis Montilla was born in Maracaibo, Venezuela and began playing the violin at age 11. By age 16 made his first record with Orquesta Chekere. Luis has an Associates degree in Musicology and a Masters degree in Education from the Cecilio Acosta Catholic University in Venezuela. Although Luis is classically trained at the Conservatory ''Jose Luis Paz'' in Venezuela, as a prodigious improviser he has played jazz and Latin music most of his career.
Moving to Los Angeles, California in 1996, Luis has performed at numerous events, festivals and Master Classes around the world including Europe, Asia, North America, South America and Latin America.
Performed and Recorded with artists: Israel Lopez "Cachao"(latin jazz legend creator of the mambo), Federico Britos (My Teacher), Javier Santos (Julio Iglesia's son), Charlie Zaa, Orlando Lopez ( masacote), Luis Conte (percussionist legend), Chistian Castro, Sergio Arau, El Chicano Group, Alfredo De La Fe (fania all star violinist), Otmaro Ruiz, Oreste Vilato, Los Galos, Raul Pineda from Sintesis and Irakere, Jimmy Brandley from NG La Banda, Chist Trujillo from Toto Group, Martin Balín (Hall of Fame of Rock and Roll ) from Jefferson Airplane and Jeferson Starship, Andy Garcia (actor/musician), La Charanga Cubana, Juan Pablo Dominguez and Michelle Amhed from Habana Ensemble, Larry Dunn Orquestra & Earth, Wind & Fire Tribute, John Seda Producer of Teach The Dreams and Born a Musician Digital Music Distribution, Jon Barnes, Jazzy Harris Band, Maria Conchita Alonso and many others.
Luis has produced music for many short films, TV shows and the movie "Gordon Glass" with Hollywood's actor Omar Miller from CSI Miami, 8 Mile, Miracle At St. Anna, The Express. In 1999, Luis became the bandleader and arranger for Telemundo's (NBC) "Cuanto Cuesta El Show" in Los Angeles. Music Composer For "Corazon De Campeon" Fox Sports Emmy Nominated 2014, Mr. Montilla is a well-rounded and experienced musician that can play jazz, standards, hip-hop, Latin and everything in between. Luis is a soulful performer that captivates the audience with his heartfelt playing style and virtuosity front of a TV camera or thousands of people in a concert.