Marcos Varela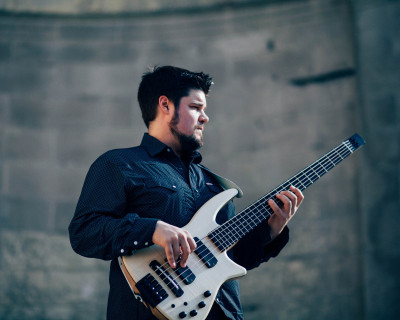 Instrument

CR RADIUS Bass Guitar

Groups

Solo Artist, composer, producer, Marcos Varela Quartet, Mingus Big Band, Illumination Quartet

Website
The NS RADIUS has so much versatility and so many sounds. I love the compactness for flying and traveling.  It has a wide variety of tonal options and with the EMG magnetic pickups, it can be warm, flat or aggressive.  The NS RADIUS is a well crafted and balanced ergonomic instrument,  I love the new design by Ned.  I can get around on it very easily, and with the both magnetics and the piezo I get the best of both worlds, taking me where I need to go musically.

—Marcos Varela
Marcos Varela is regarded as a master of both acoustic and electric bass and is among the most well respected bass musicians in the American and International Jazz scene. His talents have also earned him awards and accolades as musician, composer, producer, band leader, and teacher.
In his hometown of Houston, Texas, Varela attended the renowned High School for the Performing & Visual Arts.  As a professional musician, he continues to be very active in the New York jazz and contemporary music scene and has made a name for himself as one of the most in-demand bassists in the City and worldwide. He regularly performs with The Mingus Big Band, John Holiday, George Cables, Ingrid Jensen, ‪Billy Hart, Antoine Roney, Charli Persip, ‪Clifton Anderson, ‪Jason Moran, ‪Geri Allen, ‪The Last Poets, ‪Leslie Odom, Jr., Frank Lacy's Vibe Tribe, ‪Kendrick Scott, ‪Billy Harper, ‪Tyshawn Sorey, and Vincent Gardner's Jazz Houston, among countless others. He was selected as a member of ‪Jazz at Lincoln Center Trombonist Vincent Gardner's Jazz Houston, which has featured guests such as ‪Gregory Porter, ‪Wynton Marsalis, ‪Ruben Blades, ‪Jon Faddis, Jon Batiste, and ‪Ramsey Lewis. As a composer, He has also composed music for several film and television projects, including director Domenica Cameron-Scorsese's film "Roots in Water."
Legendary bassist ‪Ron Carter contributed to the liner notes for Marcos's Origin Records debut album "San Ygnacio", where Carter writes that Varela's "Tone, Choice of Notes and Compositions will place his playing and name on the list of bassists to be heard.", in addition Mr. Carter has made statements regarding Marcos' musical contributions saying of him; "a valuable asset to any musical organization", "a truly unique musician", "Mr. Varela belongs in the top bass players in the industry and his impressive resume confirms my words", "a fine example of talent that is essential to the scene", "top notch proficiency on his instrument as well as a complete understanding of the history and details of  the jazz art form".
In addition to sideman work, Varela leads his own projects. This includes a European tour which featured a performance of the music of his debut album "San Ygnacio" on origin records at the historic Jazz á Liège festival in Liege, Belgium. This project (Marcos Varela featuring Billy Hart) shared a billing with Fred Hersch's Trio at the festival. He also lead a all star quartet at Prishtina's Jazz Week in Kosovo, in March, 2020. Varela's newest projects include "One Mind" recently released on the Spanish label Fresh Sound Records, with pianist Peter Zak, as well as Seamus Blake and Billy Drummond. Another project on the same label, "Illumination" featuring Rob Garcia, Marcos Varela, John O'Gallagher, and ‪Noah Preminger, is set for release in late 2020.
Varela's teaching pedagogy includes masterclass lectures on improvisation, playing in a rhythm section, composing and film scoring, ensemble instruction in various musical settings, big band instruction, as well as private lessons at the university level.