Theresa Jenkins-Russ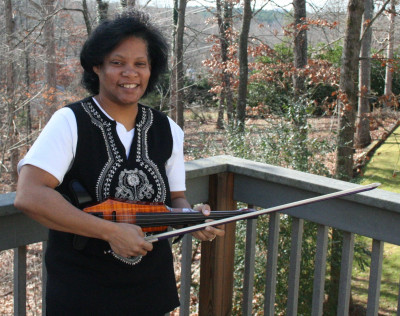 Instrument

CR Violin

Groups

Solo Artist, Educator

Website
Theresa Jenkins-Russ  teaches at several schools in Spartanburg District Seven, in South Carolina. She conducts the Honors Chamber Orchestra and Coordinates the Chamber Quintets at Spartanburg High School (2003-2005), which is comprised of the top students in the district.  She also teaches at Whitlock Jr. High and two elementary schools.
Mrs. Russ attended Wheaton College in Massachusetts and studied Violin at the New England Conservatory of Music in Boston, with Nancy Cirillo, who  was a member of the Boston Symphony.   She then went on to earn a Master's of Science Degree in Education from Long Island University in New York.  She also began her Ed.D work at Hofstra University in New York and is currently finishing her Educational Administrative Degree at Converse.
Mrs. Russ began teaching in 1987 and  taught seven years in the Long Island Public School system in New York and 10 years in the Arlington Public Schools system in Virginia teaching High School and Middle School Orchestra,  coordinating the pyramid orchestra staff, and directing the Arlington Youth Symphony in Arlington  Virginia.  Over the years Mrs. Russ's orchestras  competed at District Festival Events and Nationally rated competitions always winning  "Superior"  and   "Excellent" ratings. Since 2001 / 2002  Mrs. Russ has also been named  three years in a row in the publication  "Who's Who Among America's Teacher's".
Mrs. Russ has performed with many orchestras throughout Boston, New York,  Virginia, and Washington DC including The New York Symphonic Arts Ensemble, The  South Shore Symphony, the Brockton Symphony, the Pan-American Symphony, and the Mount Vernon Symphony.
Mrs. Russ has also studied Jazz Violin with several prominent jazz musicians of our time including John Blake Jr.,  Members of the Turtle Island String Quartet,  and  Billy Taylor and members of his Trio.  In 2002 Mrs. Russ  gave a presentation at The Virginia Music Educator's Conference:  "Incorporating Jazz into your String Program"  and had her high school orchestra, Washington-Lee High School,  demonstrate several selections.
Mrs. Russ belongs to several professional organizations including American String Teachers Association,  International Association for Jazz Education, South Carolina Music Educator's Association, The American Symphony Orchestra League, Music Educator's National Conference  and has been a member of the American Federation of Musicians, New York State School Music Association, Suffolk County Music Educators Association, Long Island String Festival Association  and Virginia Music Educators Association.
Mrs. Russ also maintains a private studio teaching violin, viola and cello to  intermediate and advanced students.