Yorgis Goiricelaya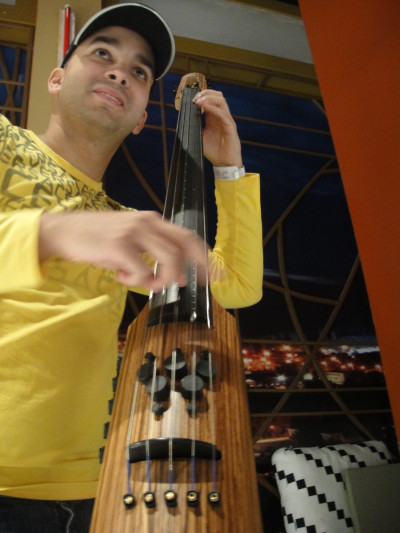 Instrument

CR Omni Bass

Groups

Luis Enrique, Rey Ruiz, Issac Delgado, Albita Rodriguez

Website
Yorgis Goiricelaya was born in the province of Matanzas, Cuba. At the age of eight, he started his music education career as a pianist. When he turned 10, he joined local Cuban bands for 2 years. Yorgis later was relocated to Costa Rica where he continued his pursuit of a musical career. In 1997 he began to perform with professional local groups in Costa Rica. A year later, he began to perform with major local artists as a bassist, later as a pianist as well.
Later on, he began to write and arrange music and joined the most recognized Cuban group in Costa Rica, Conjunto Chocolate, for which he was the manager, pianist, and writer/arranger. During this period, the group recorded 2 very successful CD's. Along with these popularity and recognition in Costa Rica, he started producing music with some of the most accomplished artists in this period (1999-2005).
In 2004, he launched his independent music project named "Abriendo Caminos." translated as "opening paths." The Album was released in August of 2005 and immediately exceeded the expectations of critics. He later launched a series of concerts, which were noted as the best Cuban music concerts in Costa Rica by the Costa Rican newspaper "La Nacion." This CD was composed by Yorgis. He also directed, produced, wrote, arranged, sang, played the bass, piano, and the flute.
In December of 2005, Yorgis moved to Miami where he started performing with an array of pretigious latin artists such as Lena, Rey Ruiz, Luis Enrique, Issac Delgado, Francisco Céspedes, Habana Abierta, Luis Boffil, El Tumbao; Jazz groups such with Carlos Averhoff (Irakere), Hilario Bell , Osmany Paredes, Paquito D´Rivera, Rey Ruiz, Issac Delgado etc. He has also worked with the legendary Grammy winner Albita Rodriguez as a pianist and writer on her recent live CD. In addition, he has recorded with some other famous artists such as Alejandro Sanz, Oscar D´León, Miles Peña, Marvin Diz, Los Del Rio, Braily, among others.
He has performed with important Latin musical figures such as: Oscar D' Leon, David Bisbal, Gilberto Santa Rosa, Arturo Sandoval, Paquito D'Rivera, Franco de Vita, Celia Cruz, La India, Jose Alberto el Canario, Chucho Valdés, Carlos del Puerto Jr, Ignacio Berroa, Gonzalo Rubalcaba, Amaury Gutierrez, Ana Barbara, Johnny Ventura, Julio Sabala, Lena, Manolin (el medico de la salsa), Puerto Rican Power, Lucrecia, Habana Abierta, Barullo, Xiomara Laugart, Malena Burke, Candido Camero, Michael Stuart, and some  others.
In recent years, Yorgis has recorded and toured on an international level in the USA, Europe, Mexico, Caribbean, Central America, and South America with artists Rey Ruiz, Albita Rodriguez, Issac Delgado and the Grammy winner Luis Enrique. When he is not on tour, he works daily as a bass player on Miami TV shows such as:
Escandalo TV, Telefutura.
Sabado Gigante (Univision) watched in over 40 countries.
Telemundo 51
In 2010 Yorgis  released his second Album called "Elegance" with special guests such as: Paquito D´Rivera, Isaac Delgado, Osmany Paredes, Tony Pérez among others of Latin Jazz icons. The album is available in most of the digital music stores around the world.
During 2013, he has been working on new productions as an active musical producer, musician, and band leader of the  renowned Spanish artist Antonio Carmona (ex Ketama), also as the musical director of the Grammy Winner Albita Rodriguez, and many other productions and recordings. Yorgis has participated in the new album "Una Mujer que canta" by Albita, who was nominated to Latin Grammy's 2013 as an arranger, pianist, and bassist. Yorgis appears on the upcoming release Unity: Latin tribute to Michael Jackson, as a bass player taking place the next spring in a live world tour.
  Yorgis has recently finished his new production called "Elegance by Night". A live DVD of the Elegance CD recording demonstrating his youthful talent, experience, and professionalism of international caliber.