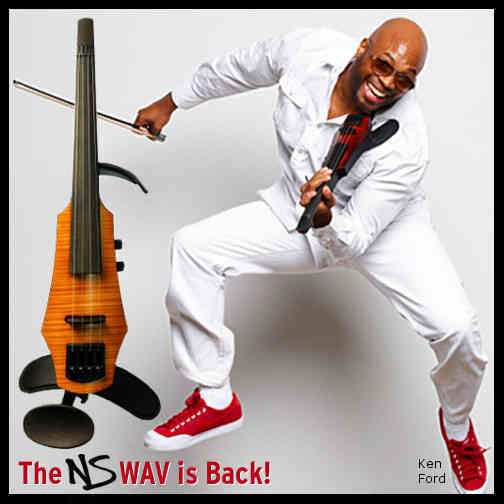 The WAV is back!  NS Design is proud to announce the return of the ever-popular WAV4 (4-string) and WAV5 (5-string) electric violins. Noted for excellent tone, versatility, and playability, the WAV shares core features with the advanced CR and NXT instruments.  This well-priced yet serious instrument is perfect for any player who is ready for plugged-in performance.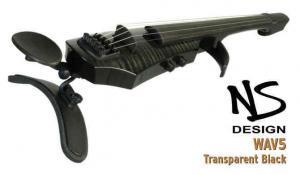 Tone Quality and Versatility
The most important feature of the WAV is its full-bodied tone: the battery-free Polar™ Pick-Up System gives you the warmth, definition, and character of a good acoustic instrument. The low end on the WAV5 (tuned CGDAE) is strong, clear and musical.
The WAV is perfect for looping, distortion and other electronic effects. Moreover, since feedback is never an issue, you have complete freedom of movement using any amplifier or sound system, regardless of volume.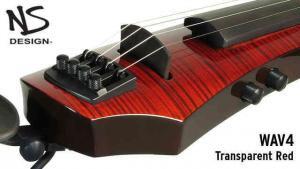 Comfort and Playability
As you play, the key landmarks are where your hands expect them to be. The feel and profile of the neck and fingerboard, the upper bout extension, the scale length, and the chinrest position are designed for quick, ready-to-play orientation. If you like, you can adjust the bridge for higher or lower string action, to suit your playing style.
The WAV now includes the Custom Shoulder Rest, which allows you to shape and adjust the padded base to the contours of your shoulder and chest, for a secure and comfortable fit.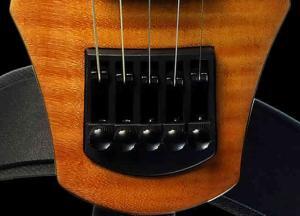 Tuning Ease and Stability
Integrated into the body behind the bridge, the patented NS Tuning System puts precision tuning right at your fingertips. The pitch stability is amazingly solid during and between sessions, and players often begin without having to tune at all.
The WAV, and every NS instrument, is about more than professional performance. It's about freedom to create and explore, to play everything you can imagine, anywhere your music happens.
Visit the WAV product page for more information.