NS Design's newest addition to it's Artist program, bassist Joseph Patrick Moore (Earl Klugh), had first
his official outing with the CR4M Double Bass for his performance with esteemed jazz guitarist Earl Klugh at Eric Clapton's Crossroads Guitar Festival 2010 in Chicago, IL, on June 26th.  It is with great pride that NS Design is represented by such a vibrant and accomplished bassist in support of such a wonderful and important charity event.
" The CR4 is a beautifully crafted instrument.  It sounds rich and warm like a true acoustic Double Bass, furthermore its playability is refreshing and inspiring.  The CR4 is hands down the best electric double bass I have ever played." – JPM
Based in Atlanta, GA, Joseph Patrick Moore has established himself as an artist with a unique voice and a diversity of talents. His skills as bassist; composer; arranger; producer; author; an educator with musicdojo.com and founding partner of Blue Canoe Records, illustrate why he is a highly sought after musician. Touring and recording with artists from cult legend and jamband guru Col. Bruce Hampton (and the Fiji Mariners) to Earl Klugh, Leo Neocentelli, Chris Duarte and Stewart Copeland (The Police).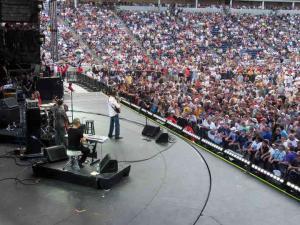 On his debut solo effort, "Never Never Land", JPM received a nomination for the National Academy of Recording Arts and Sciences premier player award (Memphis chapter/April, 1997).
Joseph's current journey continues in the pursuit of the sounds, colors, and rhythms of music. His latest cd release, "To Africa With Love" is a collection of songs inspired by the magical enchantment of Africa.   JPMAfricaLove.com
Please visit Joseph Patrick Moore's websites www.josephpatrickmoore.com and  JPMAfricaLove.com for more information on this wonderful musician.
It should be noted that the main focus of this event is to aid The Crossroads Centre Antigua.  Crossroads Centre is a non-profit, International Centre of Excellence for the treatment of alcohol and other drug addictions.  For more information please visit and donate at:  http://www.crossroadsguitarfestival.com/