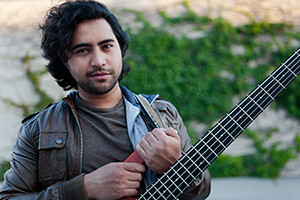 In his recent For Bass Players Only interview, NS Artist Noor Che'ree tells the story of his journey as a musician, how important his family has been on his path as a creative artist, and how his ongoing collaborative project with violinist and producer Jonas Petersen, called Symphonic Planet, has transformed his time in Los Angeles into the work of his dreams, traveling the world to create and search for music in it's myriad forms.

Che'ree's journey through music has made many stops around the world with many different genres of artists and organizations. A former US Marine Musician for the 1st Marine Division Band, award winning multi-instrumentalist, composer, producer and international touring artist, Noor strives to explore new territories in his eclectic taste of world sounds and cultures, while marrying his jazz influences to the creative process of all music.
Find the full FBPO article here:

https://forbassplayersonly.com/noor-cheree/
Che'ree plays the CR Radius Bass, the NXTa Upright Bass and the NXTa Cello.
https://thinkns.com/artists/ns-design-artist-noor-cheree/
#thinkNS #NSDesign #NedSteinberger #ElectricUpright #upright #nsartist #FBPO #ForBassPlayersOnly