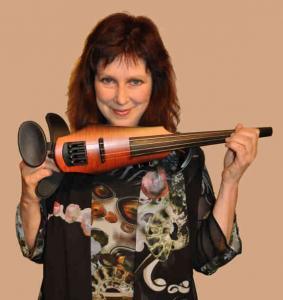 NS Design is proud to announce a partnership with composer Julie Lyonn Lieberman on her recently published Bollywood Strings Project, based around an orchestral score composed by Ms. Lieberman for orchestra and electric violin. Written either for Junior or Senior High School level players, the parts can be performed independently, but they also can be interlocked for an exciting festival or all-school performance. Along with the bi-level scores, Julie has created versions of an accompanying performance video, with and without electric violin, and authentic Indian percussion soundtrack which can be included with the performance.
Ms. Lieberman, who used her NXT during the recording of the BSP music tracks, as well as in the making of the performance video, has made special arrangements with NS Design to loan an NXT violin to any school which decides to perform Bollywood Strings. Special pricing will also be available for participating schools interested in retaining the NXT violin after their performance.
Julie Lyonn Lieberman is an eclectic styles specialist, a playing healthy maven, an improvising violinist, singer, composer, educator, recording artist, author, and producer. Formerly on faculty at Juilliard, New York University, The New School For Jazz and Contemporary Music, and William Paterson College Jazz Department, she is an NS Design Endorsing Artist, a D'Addario Elite Clinician, the Artistic Director for Strings Without Boundaries at Lawrence and Central Washington Universities, a composer for Alfred Music and Kendor Music, and a frequent master class clinician for Music Educators and American String Teachers Association's state conferences.