Getting comfortable with your violin is an important for successful practice and performance. The instrument is cradled intimately against the body, yet we are all shaped differently.  In response to this ongoing issue, I've developed a new shoulder rest that should bring a higher level of comfort and support to many players.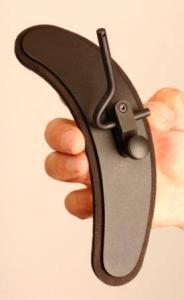 The new "Custom" Shoulder Rest can be formed by the player to fit his or her body shape.   Firm foam is backed by a  layer of malleable aluminum that can be bent with  thumb and forefingers to mold the rest into virtually any shape, as shown in the picture below.
Once the shoulder rest is formed, the shape remains fixed, providing a secure structural platform.  It does take a little trial and error to find the ideal shape, but the benefit can be quite dramatic.  Through the development process I've heard the happy oohs and ahhs  from players getting really comfortable for the first time.  In combination with the new NS Adjsutable Chin Rest, virtually any body shape and style of play can be accommodated with amazing comfort.
I'm very happy to finally be at the point where these products are available to everyone.
For more information, or to purchase one of the shoulder rests, talk to your NS Dealer, email sales@nedsteinberger.com, or give us a call at 866 NS DESIGN (866 673 3744).