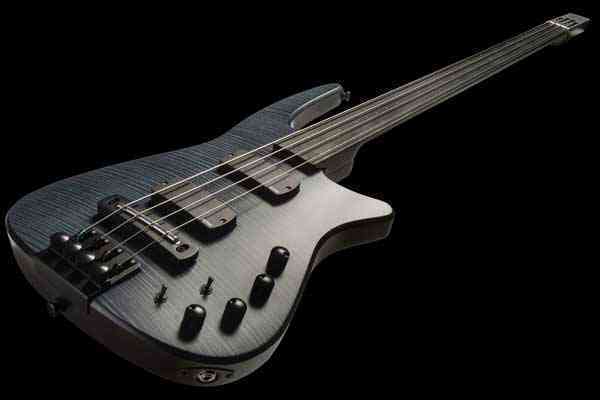 NS Design announces the arrival of the CR4 RADIUS bass guitar, joining the ground-breaking CR5 recently introduced by Ned Steinberger. Crafted in the Czech Republic, the RADIUS embodies Steinberger's breadth of experience, insight and design brilliance.

Steinberger approached the RADIUS by re-exploring each facet of a bass guitar, leading to numerous innovations, such as the Fusion™ neck, Diradial™ body shape, the patented NS tuning system, and the NS/EMG pickup system. Most significant is the manner in which the RADIUS integrates these innovations with a sensuous and highly ergonomic form. The result is an instrument which is beautiful, balanced, and sonically dynamic.
The Fusion™ bolt-on neck is one-piece maple, with an embedded continuous carbon fiber core and adjustable truss rod. This combination provides the natural feel of wood, but the core yields enhanced sustain and definition for each note. The fingerboard is ebony, with a comfortable 15″ radius; the CR4 has a 34″ scale, whereas the CR5 has a 35″ scale.
Replacing heavy conventional tuning machines, the headstock features an aluminum headplate with ball-end string mounting slots, and the self-clamping, precision tuning system is built into the body. Based on the system originally created for the NS violin, this fast, simple system accepts any standard single-ball end, full-scale bass guitar string. Special tools are unnecessary: simply rotate the knurled knob to change a string or tune the instrument.
Created in collaboration with EMG, the integrated piezo/magnetic pickup system and 18V on-board preamp provide extraordinary dynamic headroom, and put a rich tonal spectrum at the player's fingertips. The controls include: Master Volume, active Treble cut/boost, active Bass cut/boost, rotary magnetic/piezo pickup blend, 3-position magnetic pickup selector switch, and 3-position piezo EQ switch.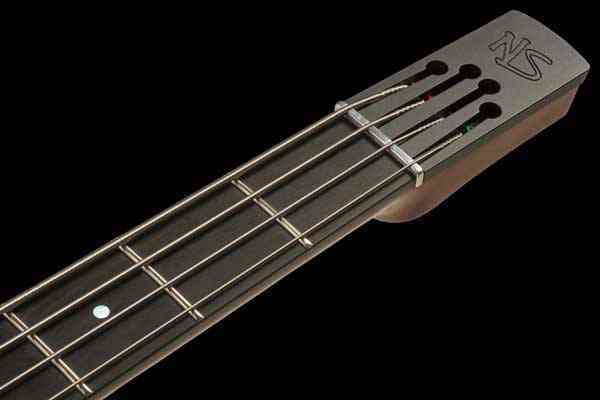 The Diradial™ body is rounded, front and back. The rear contour provides enhanced contact and stability against the torso. The front of the instrument is more tightly radiused; in combination with the general wedge shape of the body, this provides a more comfortable orientation to the right hand. The distinctive horn provides a natural grip, and the deep cutaway provides easy access to the highest frets.
For the musician, the RADIUS is perfectly balanced, no downward dipping of the neck, giving the left hand unprecedented freedom. This, along with the light weight—8.4 lbs for the CR4, 8.6 lbs for the CR5—helps to make the RADIUS extraordinarily comfortable to hold and pleasurable to play.