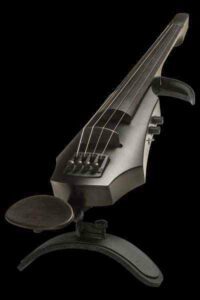 NOBLEBORO, MAINE (February 21, 2014) – NS Design is proud to announce the arrival of the NXT4 Electric Viola, designed by Ned Steinberger. Made to meet the demands of studio, stage, and other challenging performance environments, the NXT4 frees the violist from the limitations of an amplified acoustic viola. Based around a comfortable 16″ viola string scale, key features of this instrument include the self-powered Polar™ pickup system, patented precision tuning system, sleek, ergonomic design, and comparatively light weight. Available with either a flame maple Sunburst or Satin Black finish, the NXT also features a maple body, ebony fingerboard and chinrest, Custom Shoulder Rest, and adjustable-height bridge. Most important, the NXT4 Viola offers artists exceptional amplified and recorded performance quality, and unparalleled freedom of expression.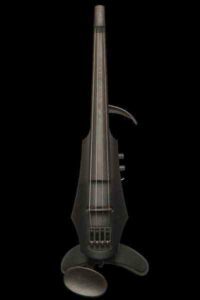 While an acoustic viola's amplified performance is heavily dependent upon the resonant capabilities of the body of the instrument, the NXT's Polar pickup system is driven directly by the vibration of the strings, enabling it to produce a full spectrum of sound with power and clarity. The NXT set up with F-C-G-D, Octave, or even G-D-A-E strings, delivers the entire range with full richness of tone. A convenient switch beside the volume and tone controls allows selection between heightened arco and pizzicato pickup sensitivity, expanding the tonal palette even further, virtually free of wolf tones.
The tuning system, mounted in the body behind the bridge, removes the weight of pegs and scroll hanging out from the body of the player, reducing the fatigue of longer performances. The ingenious self-clamping tuner provides fast, accurate, and ultra-stable tuning of each string.
The NXT4 viola completes the popular family of NS NXT models, which includes violins, cellos, upright basses, and a bass guitar / upright bass crossover model, the Omni Bass. Founded in 1990 by noted instrument designer Ned Steinberger, NS Design manufactures a wide range of electric bowed string instruments and accessories, including EU, CR, and NXT series instruments crafted in the Czech Republic. NS Design also produces the new RADIUS electric bass guitars. NS Design is headquartered in Nobleboro, Maine. For more information, call +1 (207) 563-7700, email info@nedsteinberger.com or visit http://thinkNS.com.