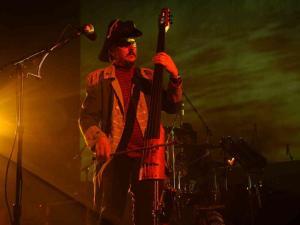 After an eleven year wait, Les Claypool and band Primus have rewarded their fans with a new recording. Green Naugahyde, to be released on September 13th, will kick off a fast-paced tour across the U.S., with Les and his CR5M double bass front and center!
Here's the full story:
Primus is excited to announce a fall tour in support of Green Naugahyde, its first studio album in 11 years out September 13, 2011 on ATO Records and Prawn Songs. An evening with Primus, featuring two full sets begins on September 23rd in Boston, makes its way west, and ends on October 22nd in Los Angeles.
Green Naugahyde was produced and engineered by Les Claypool in his personal studio, Rancho Relaxo, in Northern California, and features Claypool, long-time guitarist Larry LaLonde and drummer Jay Lane. Lane was in an early lineup of the band, and was also in Sausage, a 1994 reunion of the 1988 Primus lineup. Green Naugahyde expands on Primus' incomparable sound and also sees them bringing it into the next millennium. It is a cerebral and complex album that, like all of the band's output, is teeming with the band's signature blend of whimsy and underlying darkness.
For the past 27 years, Primus have followed in the footsteps of boundary-pushing artists like Frank Zappa and Pink Floyd to create some of the most original and inventive music in existence. Green Naugahyde is a Primus record with all of the magic and mystery that phrase entails-and while no one can say for sure what the future will hold in store for the band, the most important thing is that the album exists and will inevitably hold its own in the band's impressive cannon of music.
9/23 – The Orpheum – Boston, MA
9/26 – The National – Richmond, VA
9/27 – Palace Theatre – Albany, NY
9/30 – Roseland Ballroom – New York, NY
10/1 – Tower Theatre – Upper Darby, PA
10/2 – State Theatre – Portland, ME
10/4 – Metropolis – Monteal, QE
10/5 – Massey Hall – Toronto, ON
10/7 – Stage AE – Pittsburgh, PA
10/8 – Main Street Armory – Rochester, NY
10/10 – Louisville Palace – Louisville, KY
10/11 – Michigan Theater – Ann Arbor, MI
10/13 – Orpheum Theater – Madison, WI
10/14 – The Congress – Chicago, IL
10/15 – Val Air Ballroom – Des Moines, IA
10/17 – Ogden – Denver, CO
10/18 – Ogden – Denver, CO
10/20 – Mesa Amphitheater – Mesa, AZ
10/21 – Arlington Theatre – Santa Barbara, CA
10/22 – The Wiltern – Los Angeles, CA