Right before Audie Blaylock and Redline took the stage at 3:20 on June 18th at the Blistered Fingers Bluegrass Festival in Litchfield, Maine, I delivered Matt's bass to the band van just fresh in from Tennessee.  Although "stick" basses are not allowed at this "traditional" festival, Matt and his bandmates were thrilled to see the bass, especially sitting on a tripod surrounded by campers and touring vans.  Audi and company played a wonderful set and it was nice to be brought back to a time when four singers around one microphone could bust out the tightest and well blended harmonies!
Matt Wallace has been a member of Audie Blaylock and Redline since 2007, and before that playing for the Legendary Paul Williams, where he was part of 2007 and 2008 SPBGMA Traditional Bluegrass Gospel Group of the Year. After departing the Victory Trio, Matt spent time with New Road before joining Redline.  Matt's style of playing is a perfect fit for Audie's music and really lets him showcase his talent on upright bass and vocals.
"Matt Wallace knows his way around an upright bass and is as true as any metronome." -Phil Leadbetter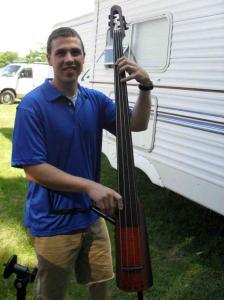 Audie Blaylock joined Jimmy Martin and The Sunny Mountain Boys at age 19 and spent nine years on the road learning the craft of bluegrass from one of the music's first-generation legends.  Audie is an award winning traditional Bluegrass guitarist with a Grammy® nomination for Best Bluegrass Album and an IBMA nomination for Recorded Event of the Year for " A Tribute to Jimmy Martin: The King of Bluegrass."    Audie Blaylock and Redline had the honor of being nominated for the International Bluegrass Music Association's Emerging Artist of the Year award in both 2005 and 2006.
Check out more of Matt with Audie Blaylock and Redline at:  http://ruralrhythm.com/ and  http://www.audieblaylock.com/.