NS Design had a wonderful showing at the 2011 NAMM show at the Anaheim Convention Center, January 13th – 16th in Anaheim California.  From new NS Artists dropping by the booth to longtime NS endorsees showing their support, this show demonstrated the passionate following NS Design's instruments enjoy.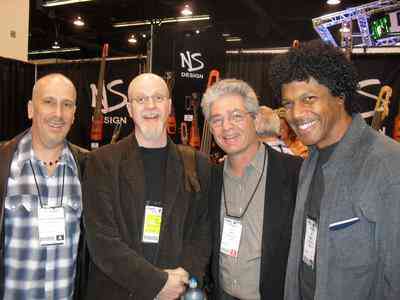 Reknowned bassist and NS CR4 Omni Bass endorsee Hutch Hutchinson (of Bonnie Raitt's band) stopped by to play a bit and chat with Ned, as did longtime endorsee Tony Levin.  Tony Cimorosi, one of NYC's finest bassists, played several jams and solo sessions, even bringing his road-tested CR4T Double Bass to the Phil Jones Bass amp booth. From straight-ahead jazz to latin-tinged solo performances, Tony drew many inquiring players and dealers with his infectiously gracious smile and exuberant personality.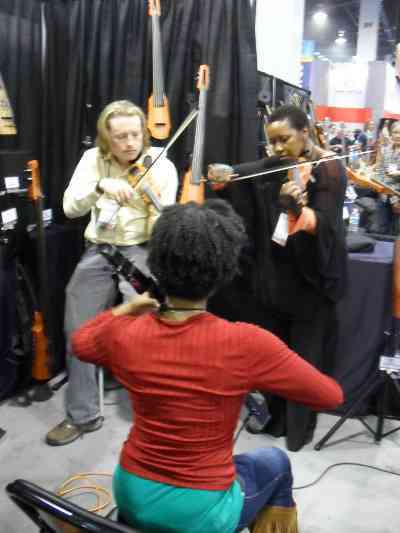 Newcomers Gary Kuo, Paul Detah and Bahman Sarram took to NS Design's acclaimed CR series violins and applied their virtuosity to putting the instruments through their paces. Fiery violinist Yvette Devereaux and friend Nailah on cello were an absolute pleasure to have trading solos with NS ambassador Ed Howe. With bows and horse hair flying like that, it's amazing no one lost an eye!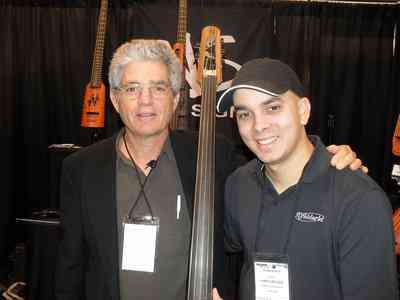 Bassists Yorgis Goiricelaya and Filipe Andreoli each gave the audience swinging Latin grooves—and big smiles—on the Omni Bass.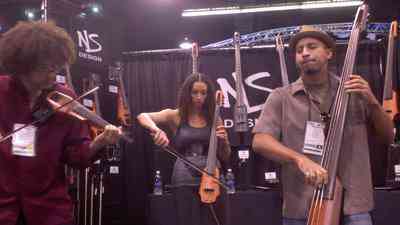 Group performances by Ryan Cross (double bass) and members of the Elevation Orchestra from LA (Adrienne and Chris Woods on Cello and Violin), and by the Tomas Donker Group with violin endorsee Alan Grubner, both drew large crowds.
Big thanks to everyone else who stopped by the booth to chat, perform or listen, including: Ron Bienstock, Christopher Vitas, Chance Wilder Onody, Nina DiGregorio, Steve Bruner, Zach Rudolph, Zach Fowler, Dave Fowler, Fernando Vallin and Rich Delany.  With so much heartfelt appreciation for Ned and his company, so many supportive friends, the show could not have been any better.