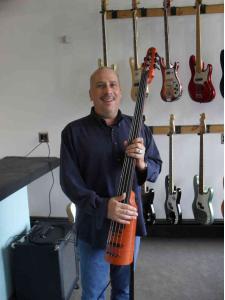 Growing up in Cambridge and Somerville, Massachusetts, James "Hutch" Hutchinson was introduced to the vibrant music scene in Boston and Harvard Square during the folk and blues revival of the 1960's
Hutch has been the primary bassist for legendary blues guitarist and popular singer Bonnie Raitt since 1983, having played and toured with Bonnie on her multiple Grammy Award winning and Double-Platinum selling albums and singles.
Even if you don't know his name, you have certainly heard him as a studio musician on numerous recordings by such artists as The Neville Brothers, Brian Wilson, Ringo Starr, Al Green, Crosby, Stills, Nash And Young, The Chieftains, Joe Cocker, Elton John, Jackson Browne, Hank Williams Jr., Garth Brooks, Lyle Lovett, Tanya Tucker, The B 52s, Willie Nelson, Vince Gill, The B-52's, and many film and television projects as well.
You might want to check out his full Biography on Bonnie Raitt's website.
This past January in Anneheim, CA, Hutch walked into the NS Design booth at NAMM 2010, the industry trade show and immediately latched onto the NXT series Double Bass.
I had the pleasure of hooking up with Hutch for some of his gigs in Boston and spent the afternoon at Mouradian Guitar Co., luthier Jim Mouradian's shop in Winchester, MA.  On the road, Hutch relies on the NS Omni Bass and specifically likes having that big upright sound while having the  portability and size of a traditional 34″ scale electric bass that he can carry onto any flight, and easily fits in airline overhead compartment.
Hutch dubbed NS Design's Boomerang Strap System the "best strap I've ever used!"
He has recently used the Omni Bass for select gigs with Bonnie Raitt and several recordings of "new" artists he is working with.
Needless  to say, NS Design is very pleased to add Hutch Hutchinson to our roster of NS Design working artist endorsers.