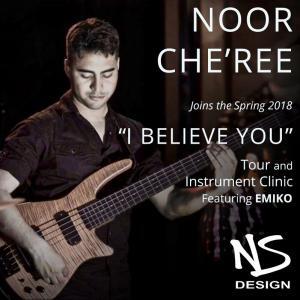 NS Design Bassist Noor Che'ree is embarking on the "I Believe You 2018 Tour" with Rock-Pop musician Emiko. The National Tour begins on March 21, 2018. Along with drummer Lee Piatelli, the trio will play a series of shows throughout the US. In May 2018, Emiko Asia Tour will play in Tokyo, Hong Kong, Taiwan, Bantam Border Stage Festival, The World Youth Jazz Festival (Kuala Lumpur), and Jakarta, Indonesia.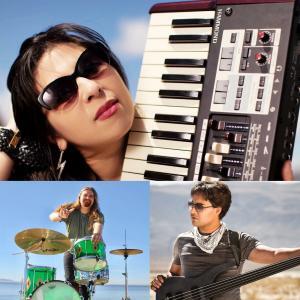 While on their US tour this spring, Che'ree and Emiko will hold the 'Emiko LIVE! Songwriting & Instrument Demo Clinic Series' at select Sam Ash Music Store locations around the country. Che'ree is representing NS Design, along with Emiko and her brand partner Hammond Organ USA. They will share their experiences and process in the music creation process, from concept to writing to performance and recording.
Along with sharing his insights and tips, Noor will demonstrate the versatility of the NS Basses and various types of available bass sounds from the RADIUS Bass Guitar. Attendees are welcomed to play the instruments and take part in the process during the clinic.
Don't miss this unique opportunity to learn and work with Che'ree and Emiko. Visit the Sam Ash Events Calendar at for a current list of locations, dates and times.
For tour dates and locations for the "I Believe You 2018 Tour" with Emiko visit her website: www.emikomusic.com
For more information about Noor Che'ree visit www.noorcheree.com