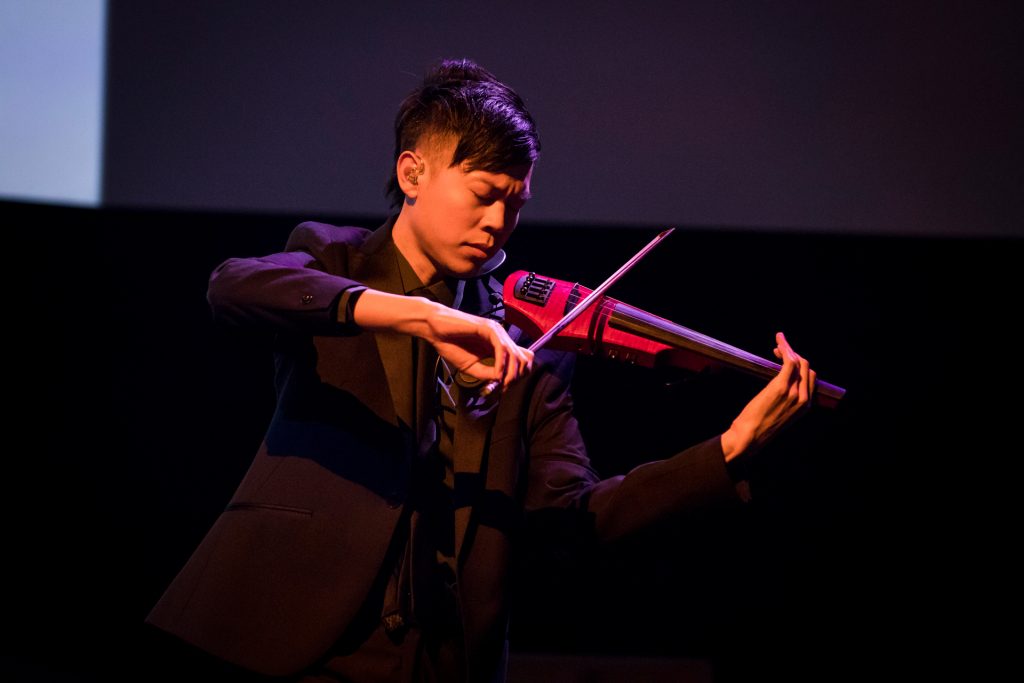 NS Violinist Jason Yang follows his creative instincts into innovative musical territory. As a young classical violinist growing up in New Jersey, Yang enjoyed performing with the Philadelphia Youth Orchestra. He broadened his interests beyond classical music while at the University of Southern California, where he met musicians who sparked his interest in composing and improvisation.
Yang began composing, arranging, and teaching, and developed his own unique style.  In 2007, he began playing the NS Design CR Series Electric Violin, which expanded his sonic palette and offered a new array of technical possibilities.  Jason's performances came to encompass a variety of genres, bound together by technological innovation and his deft, playful musicianship.

Yang is pictured here at NAMM 2017 with his composing mentor Mick Baumeister (left), and Ned Steinberger (right),  founder and designer, NS Design.
In 2008, while still at USC, he started posting YouTube videos of himself from his dorm room jamming on the CR4 with various pedals and layering effects. Layering and mixing using the NS electric violin, his acoustic violin, and other instruments, Yang constructed an orchestral base for his music. The success of his YouTube videos raised his profile among a new generation of experimental violinists. Today, his YouTube channel has 198,000 subscribers.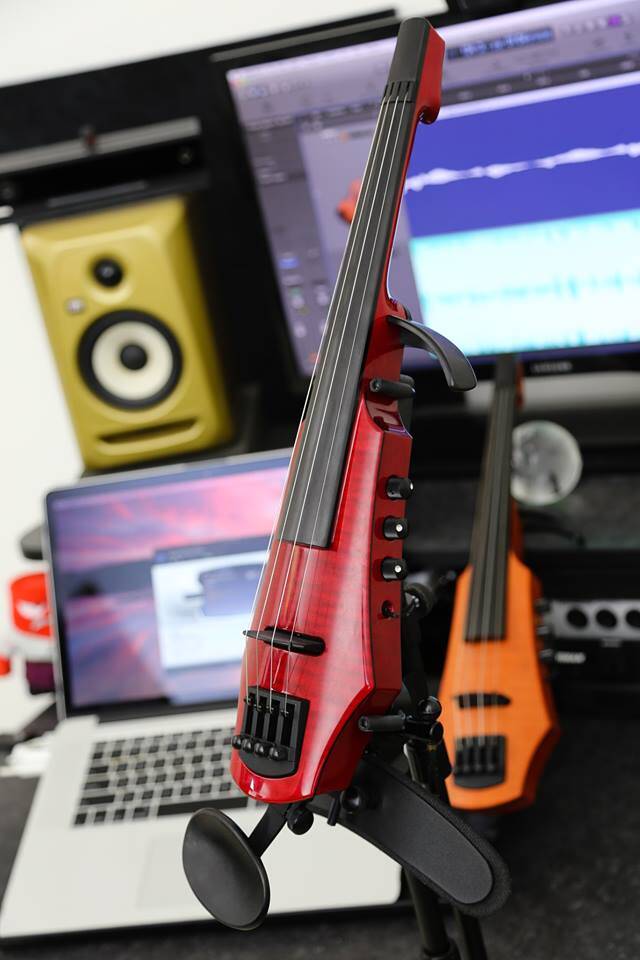 At Yang's workstation, pictured in foreground: NS Design CR4 Transparent Black Cherry High Gloss Custom Electric Violin displayed on the NS Violin Caddy; background: NS Design CR4 Amber Satin Electric Violin.
After college, Jason found increasing success as a professional musician. In 2012 he joined Madonna's MDNA World Tour as her violinist. He continues to collaborate with dancer and performance artist Lil Buck, who also tours with Madonna. Lil Buck and Yang have also performed together on The Colbert Report, and recently at TED2017, in the premier of a performance as MAI: Movement Art Is, co-led by dancer/choreographer John Boogz. That work, "A Dance to Honor Mother Earth", combined dance, spoken word, and Native American song and music performed by Yang on the CR Violin.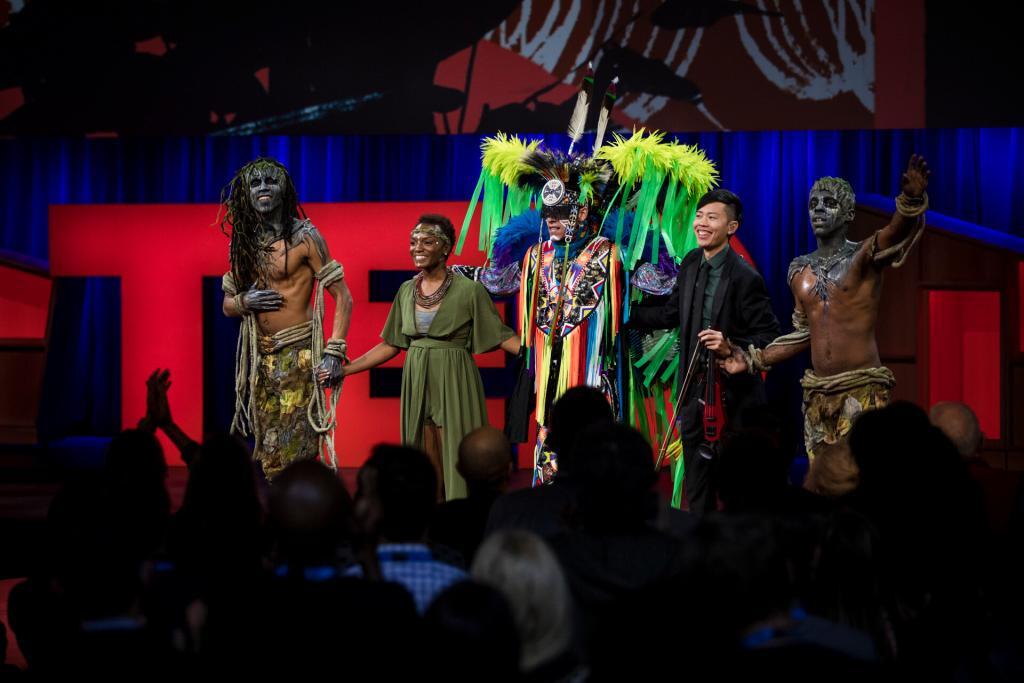 Watch the full performance here:
Jason has played the CR Violin for almost a decade. In his own words, the instrument is "hands down the best electric violin available … sound, response, design, build quality, dependability."  Jason goes wireless in his live performances, with a wireless pack in to his CR, and wireless in-ears for monitoring. He uses Boss pedals and loop stations for his effects.
Here's another example of what Jason does so well, in what he describes as: "Spontaneous 100% freestyle jam of Moonlight Sonata. With a lil' bit of distortion…" in a video post with fellow Movement Art Is collaborator, John Boogz:
Recently Amazon.com approached Yang to host his own live streaming channel on their online streaming service TwitchCreative.  Growing out of TwitchTV, which originally focused on live-stream gaming, TwitchCreative has channels for music, cooking, painting, and crafts.
Jason's live shows feature jamming, requests from among his 14,000 followers and guest appearances by other artists he hosts from his living room studio.  Some of the most popular streams include work with ChewieMelodies, The Luck, Cellist Mariko, and several collaborations with his sister, pianist Pauline Yang.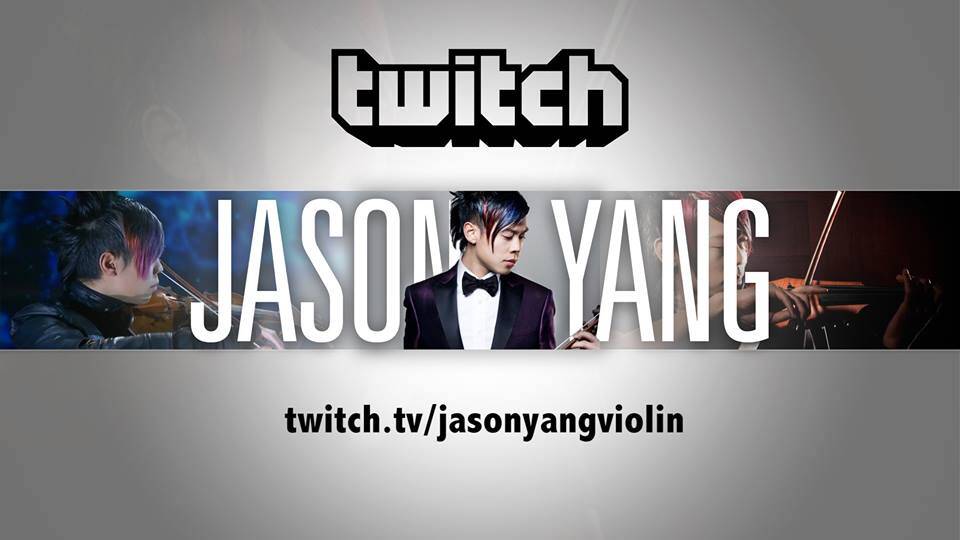 For more information about Jason Yang and links to various projects and performances, goto his YouTube channel: https://www.youtube.com/user/JasonYangViolin or at TwitchCreative: http://www.twitch.tv/jasonyangviolin.
For more information about the CR Series Electric Violins that Jason plays and the entire selection of NS Bowed Electric Instruments, including the new Eco-friendly and battery free NXTa or the affordable and road-worthy WAV Series or to see a selection of our Custom CR Series Finishes, and available accessories for the NS Electric Violin, please visit our website: ThinkNS.com.