NS Design and it's electric bowed instruments were "plugged in" to the lineup at the 26th Annual Joe Val Bluegrass Festival at the Sheraton Framingham in Framingham Massachusetts, February 18th through the 20th.  The Joe Val Festival celebrating the life and legacy of the late Joe Val (Joseph Valiante) of Everett Massachusetts, is the Northeast's premier indoor bluegrass festival, with featured national Bluegrass acts along with workshops, educational programs and music vendors.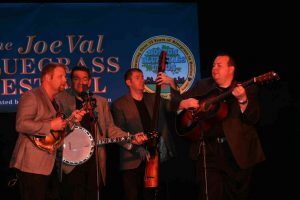 Tim Kidd of Joe Mullins and the Radio Ramblers
NS Design double basses were in full force with players and bands such as:  Timmy Massey (NS NXT4 Double Bass) with Junior Sisk & Ramblers Choice, Tim Kidd (NS CR4T Double Bass) with Joe Mullins and the Radio Ramblers,  Danny Stewart (NS NXT4 Double Bass) with The Larry Stephenson Band and Skip Ward with Tony Trishka and Territory.  The featured highlight of the show was the reunion of Northern Lights, with NS Design's own Sales Manager Mike Kropp on Banjo and bassist Jeff Horton using a NS CR4M double bass.  In addition to having a vendor space at the festival, NS Design is breaking ground with many players infusing its electric upright basses into the traditional instrumentation of bluegrass performances, eliminating feedback issues and cumbersome space problems usually associated with acoustic upright basses.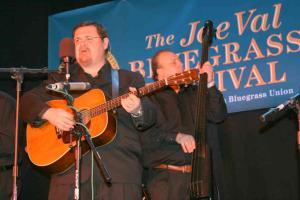 Timmy Massey of Junior Sisk and Rambler's Choice
Timmy Massey of Junior Sisk & Ramblers Choice says, "We really enjoyed our first trip to The Joe Val Festival.   I certainly hope that we are asked to return for many years to come.   I am also pleased with the response I received from the fans there and everywhere, for that matter, about the  pure realistic "upright" sound of my NS Bass. "
"Playing the NS is great.  It plays like an old acoustic, yet without worrying about the sound post slipping or the bridge moving and it fits in the overhead of a plane! It's always interesting to watch everyone as I bring it on stage. It never fails, after nearly every show people will come up to me surprised at the big sound it produces.. We just played a show recently and a bass player from a country band couldn't believe the sound and wanted to know more! I love it!" says Tim Kidd of Joe Mullins and the Radio Ramblers.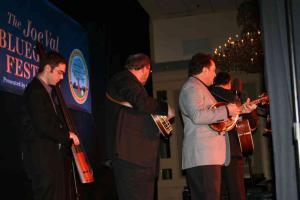 Danny Stewart of The Larry Stephenson Band
The Joe Val Festival was a "home-run" for NS Design and its talented roster of artists.  It sincerely is an honor to be a integral part of such a renowned festival and it's lineup of such fantastic bluegrass performers.  Perhaps next year we may even see some NS Design violins (fiddles) joining their double bass brothers on the main stages of the Joe Val Festival and many other festivals in 2011.
For over 25 years, Joe Val was known as "The voice of bluegrass in New England." with classic renditions of Bill Monroe and Jimmie Rodgers standard tinged with yankee roots.  Starting on guitar and later moving to banjo and mandolin, Joe set the trail for Boston's folk and bluegrass scene in the early 60's.  Surrounding himself with greats such as Joan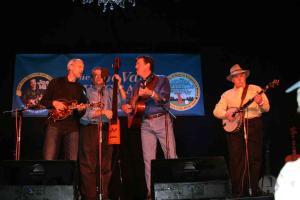 Northern Lights reunion with NS Design Sales Manager Mike Kropp (banjo) and Jeff Horton (bass)
Baez, The Charles River Valley Boys and other notables, playing with several bands including the Radio Rangers, the Berkshire Mountain Boys and The Lilly Brothers & Don Stover.   In the 70's and 80's, Joe Val formed his own band, The New England Bluegrass Boys, with Herb Applin (guitar/vocals), Bob French (banjo), and Bob Tidwell (bass).  In 1972, The New England Bluegrass Boys  recorded their first album, One Morning In May, the first bluegrass release for Rounder Records.  Joe toured and recorded extensively until his death in 1985.
For more information on Joe Val and the Northeast Bluegrass community check out the Boston Bluegrass Union's website at http://www.bbu.org/jvhome.htm.