Review by Kel Pilshaw.

Besides being a world-class instrument builder, Ned Steinberger has always had an appreciation for beauty and instrument aesthetics, and his design philosophies manifest themselves perfectly in his RADIUS electric bass line. The NS Design WAV4 RADIUS bass guitar is a fantastic professional instrument, delivering nearly everything we love about the Czech Republic-built RADIUS CR bass (in-depth review here) in a lower-priced, import version that retains the instrument's great build, playability, and tone.
The right bass should fit your body and accommodate your various playing situations (i.e., touring, playing weddings, sit-down studio work, etc.), and the ergonomics of NS Design basses are superb no matter your playing preference.  Weighing only eight pounds, if you regularly play long gigs, the WAV4 RADIUS instrument is one that your back will definitely appreciate. But first and foremost, we know you want a bass that plays "like butta," sounds like a gift from the tone gods, and has good looks to match. You'll find all that and more in the WAV4 RADIUS.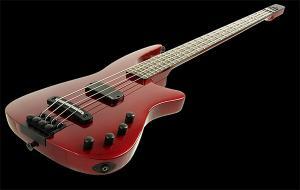 Features

The NS-WAV4 RADIUS Bass is a modern, ergonomically-designed instrument with a shape that is both beautiful and familiar. The bass arrived in a custom-fitted gig bag with adjustable backpack straps for easy transport and a large front zipper pocket with room for your cables and gig gear. The elegant, matte black finish blends well visually against the rosewood fingerboard. We were delighted that the WAV4 has the same high standard and workmanship of the more expensive NS Design RADIUS CR5 Bass we reviewed a few years ago (in-depth review here).
The body of the bass has an innovative and unique design. The curvature on the concave "Diradial" body gives the player comfort and stability. The shaping on the rear and the top of the bass provides a "part of your body" natural feeling and helps keep the angle of your hand in a more neutral position (45-60 degrees) rather than a stressful (as in, your joints and muscles) ninety-degree position. By not resting your forearm or wrist on the bass, this helps avoid muscle cramping and nerve compression (which can lead to physical distress).


OVERALL RATING = 3.9, which earns it a WIHO Award!
Read more here at:  (in depth WAV4 reveiw here)