NS Insight: Highs & Lows
There's a reason why professional bass players love the big, punchy low end and the glistening highs & harmonics of an NS Bass. Here's what's going on:
Human hearing is naturally strong in the mids (roughly between 1 and 5 kHz, the vocal frequency range), but drops off at higher and lower frequencies. Most instruments, including basses, have a matching problem producing sound: strong in the mids but tapering off at both ends of the sound spectrum where a great deal of important tone content resides. This is usually compensated for with equalization, boosting the highs and lows, suppressing the mids. However, that signal processing comes at a price: loss of quality and clarity.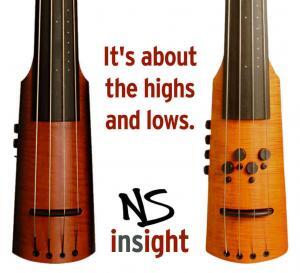 How are we different? One of the features of every NS bass is the Polar™ pickup system. Unlike an ordinary pickup, the Polar pickup doesn't lose sensitivity above or below the midrange. The piezo technology embedded at the base of bridge harnesses the entire range of frequencies your strings produce – with full fidelity, and full force. And your ears can definitely hear the difference.