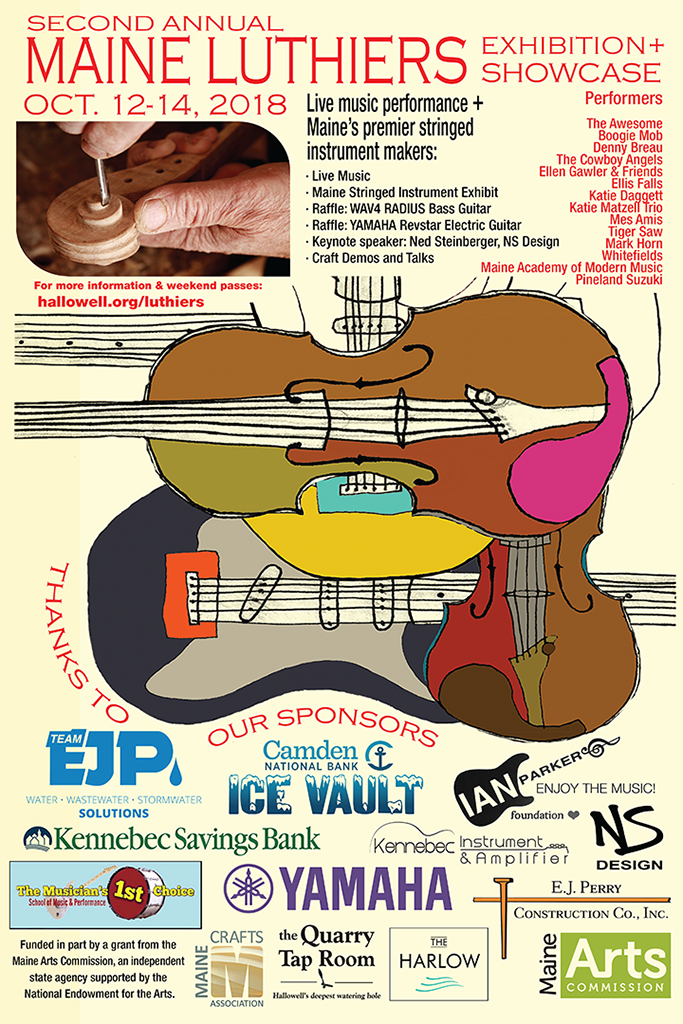 October 12 – 14, 2018, Hallowell, Maine welcomes you to celebrate the craft of lutherie at the 2nd Annual Maine Luthiers Exhibition and Music Showcase at central Maine's "New Orleans on the Kennebec"with a gallery exhibition of Maine made instruments, craft demonstrations, and great live performances at auditoriums, restaurants, and pubs in the most charming, and rocking, downtown north of Portland.
Friday night's reception at City Hall includes a meet and greet with Ned Steinberger, our keynote speaker and an internationally recognized innovator in musical instrument design and construction.  He is an incredible example of innovative intellectual property producer who lives and works in Maine, and is part of an international manufacturing network.
The 2nd Annual Maine Luthiers Exhibition and Music Showcase is brought to you by the City of Hallowell, in partnership with The Harlow Gallery and Maine Craft Weekend, and funded in part by a grant from the Maine Arts Commission, an independent state agency supported by the National Endowment for the Arts.
Friday Night Welcoming at Hallowell City Hall
Keynote Speaker: Ned Steinberger, internationally recognized stringed instrument design innovator, City Hall Auditorium, 6:30 PM, with VIP reception at 5:30.  General seating starts at 6 PM.
Featured Performers: Adam Frederick, bassist, NS Design Featured Endorser, City Hall Auditorium, 7:30 PM; The Katie Matzell Band, City Hall Auditorium, 8:00 PM

NS Artist Adam Frederick with the Fretless Sunburst NXT5a RADIUS
Music and woodworking vendors and demonstrations including:
Bourgeois Guitars, Hallowell City Hall
Kennebec Instrument and Amplifier, Hallowell City Hall
Carter Ruff, Luthier, Hallowell City Hall
Shelter Tool, Hallowell Bandstand (next to The Harlow)
All days Featuring:
Maine-Made Stringed Instrument Exhibition at The Harlow
Raffle drawings for great stringed instruments including a NS Design WAV4 Radius electric bass guitar and a Yamaha Revstar RS502 electric guitar
Music Performances in Downtown Venues throughout the weekend
Visit http://hallowell.org/luthiers/ for more details and to reserve your tickets!