Even before receiving his five-string NS Omni Bass, Yorgis Goiricelaya was immediately attracted to its slim profile and portability.  He wanted a bass he could carry on a plane, and the Omni fit the bill perfectly. Replacing his acoustic double bass,  it gave him the "upright" sound desired by the Latin music bands he plays with.
Originally from Matanzas, Cuba, Yorgis's musical path has led him all over the world backing up Award winning Latin and Cuban music singers and bands.   After establishing himself in Cuba and then in Costa Rica, he moved to Miami, FL, where he and his studio are currently based.  He performs with prestigious groups Rey Ruiz, Luis Enrique, Isaac Delgado and Luis Boffil.  Yorgis also joined Grammy Award winner Albita Rodriguez on her live CD, "Lena".
Yorgis is recording and arranging for Robert Vilera's new CD, and will be touring this summer with Luis Enrique in Italy, Puerto Rico, Canada and Curacao.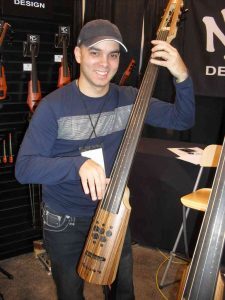 Yorgis's newest solo release "Elegance" highlights his mastery of Cuban and Latin music.  Arranging original compositions and favorites, Yorgis shines as a bassist, tackling everything from trio arrangements to 16 piece large ensembles. "Elegance" is a must listen for Latin music fans.  If you are in the Miami area, there is a CD Release Party for "Elegance" Thursday, July 22, 2010, at 9pm at the PLACE in Miami (833 SW 29 Ave).  Some of Miami's finest players will join Yorgis perfoming pieces from the album.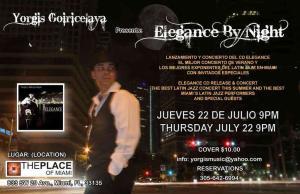 Check out more of Yorgis Goiricelaya at http://yorgismusic.com/live/ and be sure to  view the video documentary "Making of Elegance", a beautiful and moving montage into Yorgis's musical life.