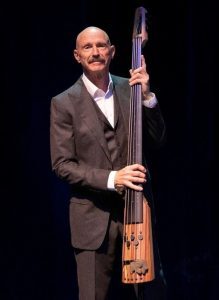 NS Artist and esteemed bassist Tony Levin and his long-time band mates in King Crimson are embarking on their 2019 50th Anniversary Celebration American Tour.   With his CR5M Upright Bass, Tony and the rest of the KC camp will be ploughing through their extensive history of fan favorites.
Tour dates at:   https://www.dgmlive.com/tours?liveshow=on
Tony will also be doing a run of December dates with The Levin Brothers.  Featuring tinges of mid-century Afro-Cuban Jazz, Tony on his CR5 Cello and CR5M Upright Bass along with keyboardist brother Pete Levin, carve out fiery improvisations and groovy compositions rooted in classic Jazz of their childhood.
Tour dates at:  https://tonylevin.com/tour
Tony Levin plays the CR5M Upright Bass and CR5 Cello.